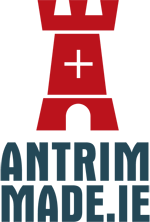 Famous Belfast made DeLorean car goes back to the future & gets electrified | Season 2 – Episode 7
Wheels
Mar 09, 2022
There has been much recent talk and even more coverage about the Irish manufactured iconic motorcar DeLorean being revived. There have been reams of coverage on and off line particularly about the fact that it is to be electric. While this multimillion Euro project is still only at planning stage a group of Queens University Belfast students and staff have stolen the march on them and already electrified a DeLorean.
The gull-winged DeLorean, or to give it's proper designation the DMC-12, was a controversial chapter in Irish automotive history. The brainchild of American General Motors executive John DeLorean in the late '70s they were eventually manufactured in a purpose-built factory in the suburbs of Belfast in 1981. Only 8,987 cars were built between January 1981 and December 1982 and at the peak of production, there were more than 2,600 employees at the factory.
The shape of the car was penned by Italian car designer Giorgetto Giugiaro while the bulk of the engineering was performed by Lotus Cars in the UK, under the direction of Colin Chapman. The gull-winged doors and stainless steel skin atop a fiberglass underbody made it unlike any other car of its time. Powered by a 2.8L, all-aluminium V-6 engine supplied by the Peugeot-Renault-Volvo consortium, the rear-engine car was offered with either a three-speed automatic or a five-speed manual. Interior colours were limited to black or grey, though there were a handful of dealer options available from the 345 original dealers.
This unique car was launched into a depressed buying market at the time which was compounded by lukewarm reviews from critics and the public. After a year DeLorean had failed to recoup its $175 million investment costs, unsold cars accumulated, and the company was in financial trouble. DeLorean himself was involved in a high level drugs deal said to have been linked to his need to cover his losses. There was talk of police entrapment and the trial ended in a not guilty verdict.
Presently only around 6,500 DeLoreans are on the road and a clean one carries a value of around €30,000 to €40,000. Aside from the controversy it became a cultural icon as through its appearance in the "Back to the Future" film franchise.
The new company is called DeLorean Motors Reimagined LLC based in Texas. It is led by a group of executives who most recently spent time at China-backed EV start-up Karma Automotive. They're working with Stephen Wynne, who acquired the DeLorean branding rights in the 1990s and supplies parts for the 6,000 or so remaining vehicles.
Ahead of the US launch a group of students and staff from Queen's University School of Electronics, Electrical Engineering and Computer Science Belfast, supported by NIE Networks have been working on their own electric DeLorean. They painstakingly restored and modified the car over the past 18 months to run on electric. This project had the goal of teaching students about the electrical and electronic technology used in electric propulsion (electric motor and batteries).
The car will feature in a STEM educational programme to be developed for schools across Northern Ireland. Quoting their Facebook page "The way we see it, if you're going to build an electric car, you may as well do it with some style."
There has been speculations for many years that the classic sports car will make a comeback. With it's possible emergence as an electric car it will have captured the zeitgeist. DeLorean the Irish, similar to our regular performance at Cheltenham, have pipped them at post!
Sources of information
Classicdmc.com
Belfast Telegraph
Bloomberg.com
Topgear.com
QUB Electric DeLorean Facebook
Yankodesign.com
This post is copyrighted© to Ireland Made®
Not to be copied or reproduced without permission
Do you have an Irish made project old or new you would like us to feature?
Contact Us