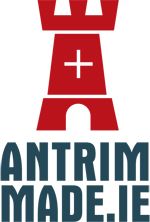 Larne Electric Post Float 1959 | Season 3 – Episode 73
Wheels
Oct 13, 2023
In Ireland electric-powered delivery vehicles are nothing new. Many of us remember the milk and bread floats from the 1950s to the '70s, however, fewer still remember the Post office electrical mail float introduced in the town of Larne County Antrim in 1959.
At a time when electric-powered delivers of milk and bread were the norm, the obvious progression was for the post office to follow suit.
The inaugural electric mail delivery vehicle (UXV 366) made its debut at the Larne head post office on October 20th 1959. Termed a "pedestrian control electric truck," with its 12 mile range it transported packages to business across Larne town centre.
The Manulectric range of vehicles as produced by Sidney Holes Electric Vehicles Ltd., Brighton was chosen for the contract. In 1952 having achieved success in the milk delivery market, Manulectric turned its attention to refuse collection in 1957 and Post office 'floats' in 1959.
The Manulectric postal vehicles distinguished themselves from milk floats in that the milkmen's floats featured a closed cabin for the driver. Conversely, the postman had to walk in front of the vehicle, which resembled more of a trailer and steer it using a single tiller handle.
These vehicles offered a significant advantage by allowing the operastor to transport a much larger volume of mail than what could fit in a bag or bicycle basket. This eliminated the necessity for trips back to the depot for additional mail, saving valuable time in the process.
At the end of its daily duties, the mail float was connected to an electrical charging system, for overnight charging for the next day's operations.
Despite the obvious efficiencies and the low cost of operation the electric mail float failed to catch on, perhaps it was the often inclement County Antrim weather that had an effect on the driver?
To the best of our knowledge, there was only one additional Manulectric-built post office "Pedestrian Control Electric Truck" introduced in Northern Ireland. Unfortunately, we have very little information on its specific location or historical background.
By 1974, the Manulectric post office float was in continuous service and had accumulated over 15,000 miles on its delivery route through the streets of Larne. As we understand this unique and efficient electric vehicle was withdrawn in 1974 and its current whereabouts are unknown.
In the early 2000s the post office again trailed compact electric delivery vehicles such as the Paxster Cargo 2.4m long with a top speed of 28 mph and a range of 88 miles.
Information sources and photo credits:
Belfast Telegraph
Irate
ITS International
Pedelces
Sunday Times
Sussex History Forum – Pomme Homme
The Royal Mail
Do you have an Irish made project old or new you would like us to feature?
Contact Us